1 Arm Man
1 Arm Man - $10
Does a pull-up with one arm.
Includes cylinder.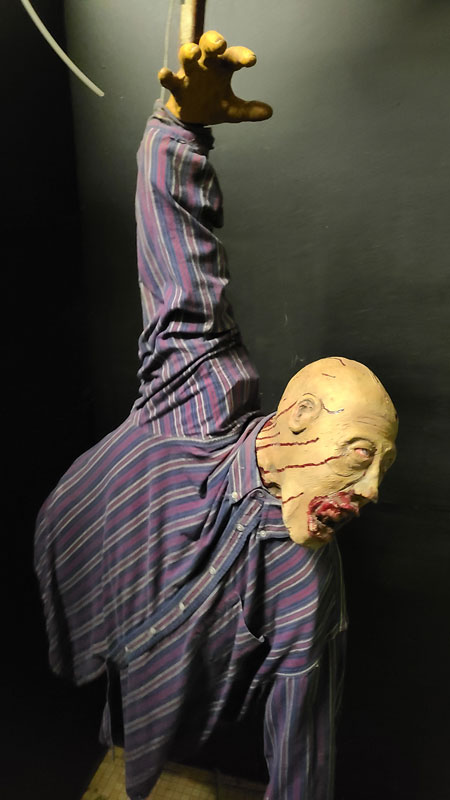 ---
Air Chisel Scares
Steel Plates & Chisels - $100
Includes 2 steel plates, 2 chisels, & solenoid.
Both steel plates are 4ft long. One is 30" other is 32".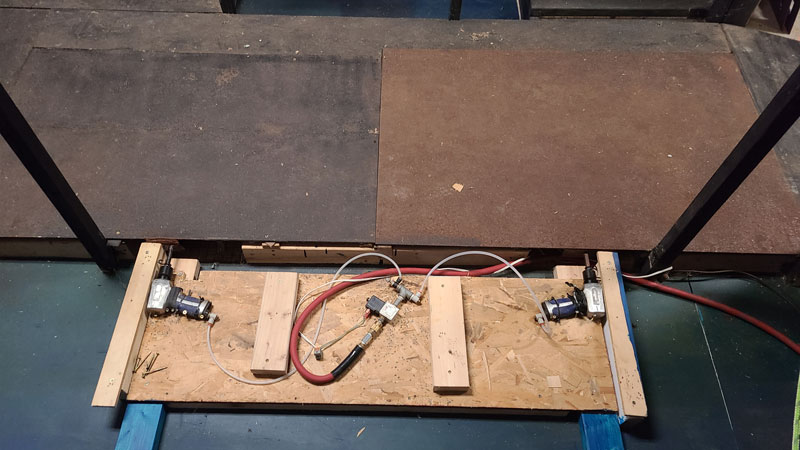 Shown in the floor.
Can also be mounted in a wall with chisels behind the wall.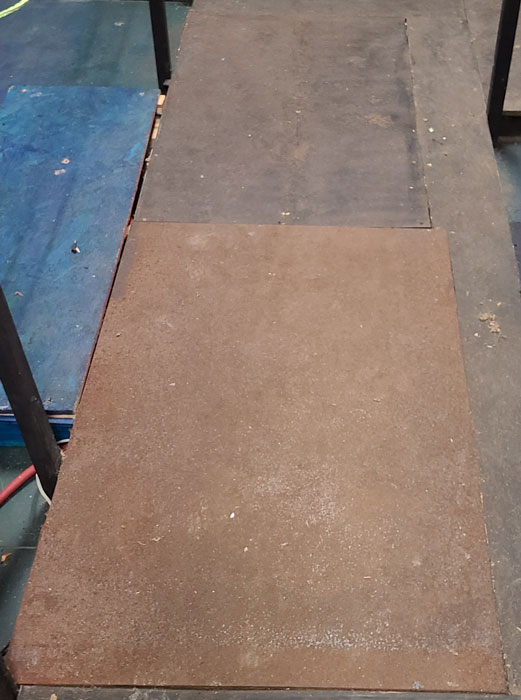 ---
Bayou Cabin
Bayou Cabin Facade - $20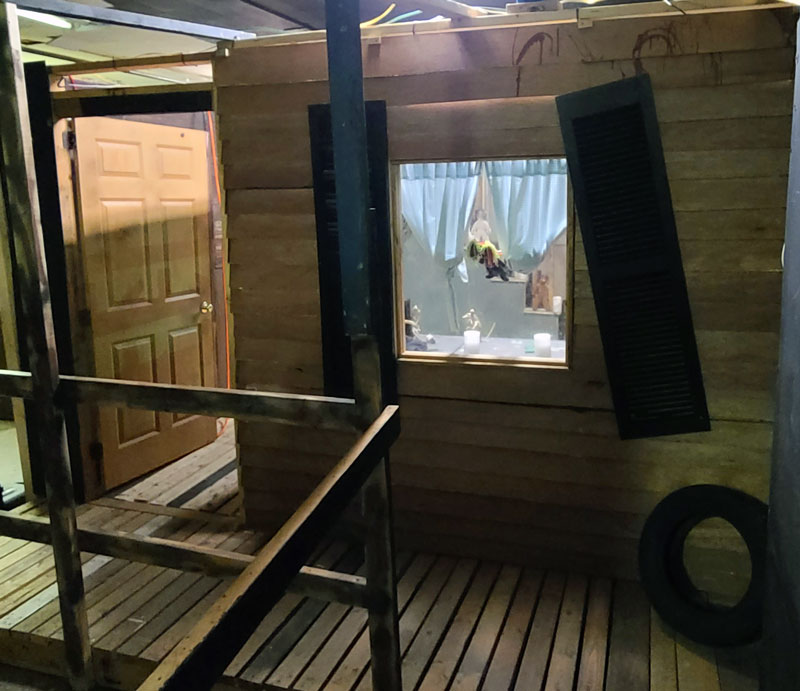 Bayou Cabin Facade is an 8ft x 8ft wall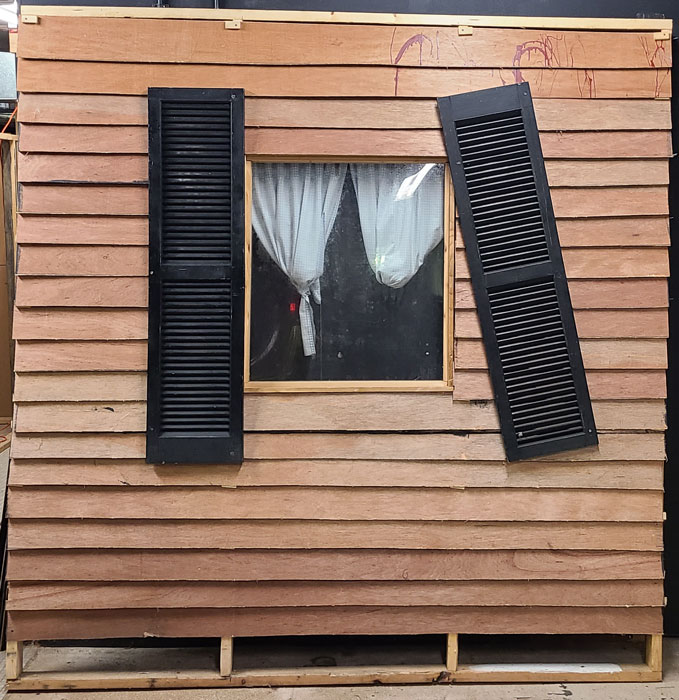 Fake Stairs Scare - $20
Includes stair facade with non opening door and "shadow wall"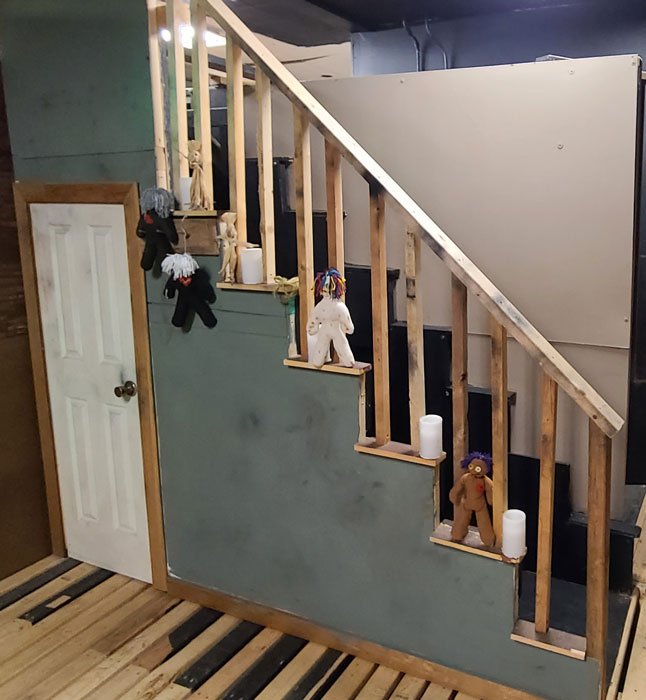 ---
Claustrophobia
Claustrophobia - $200
Includes 2 - 16 foot x 35" Cordura Bags.
Powered by 2 Stanley blower fans. (Included)
Fully inflates in 1 minute.
Can be broken down into 4 - 4ft x 8ft sections to transport or for storage.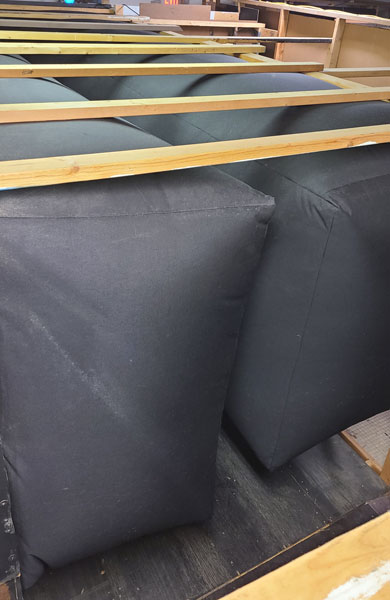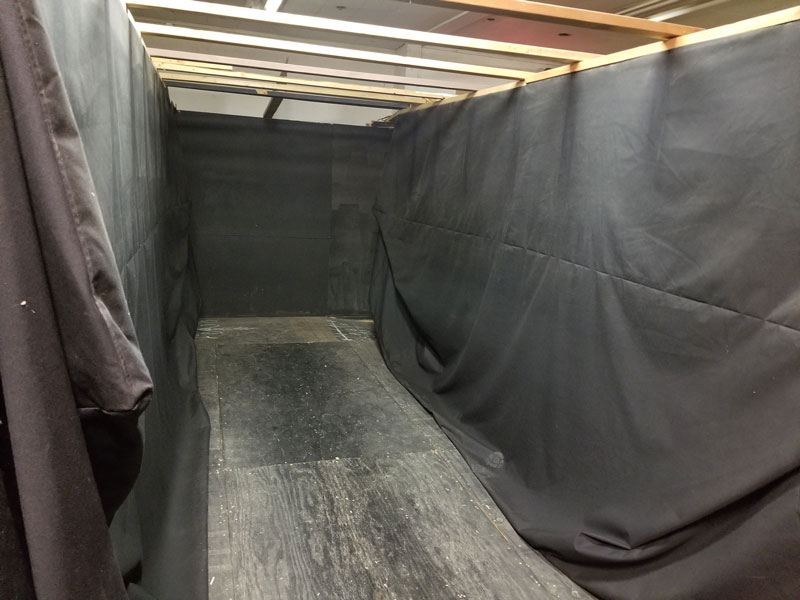 ---
Coffin Popup
Coffin Popup - $10
Our first pneumatic scare.
Built more than 20 years ago.
We have used it at least half the seasons.
Popup currently has a western theme but is easy to change.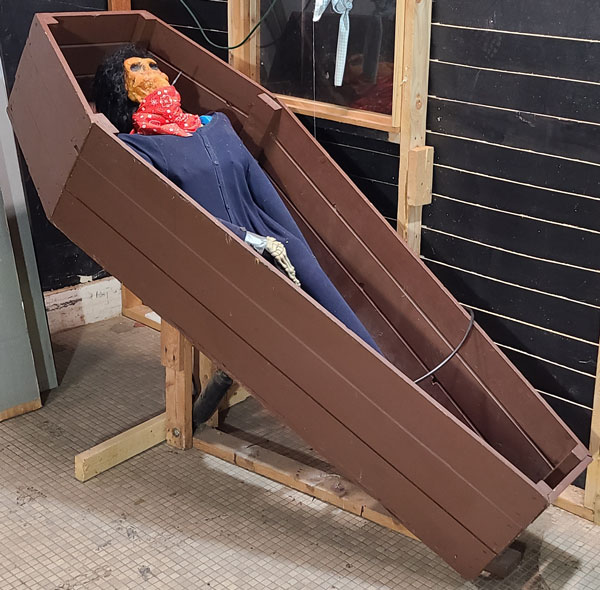 ---
Drop Floor Framework
Drop Floor Framework - $40
8ft x 32". Made from 2x8's.
Couldn't use droop floor in Galesburg due to short ceilings.
Pictured upside down because it was used as a divider to store scap wood.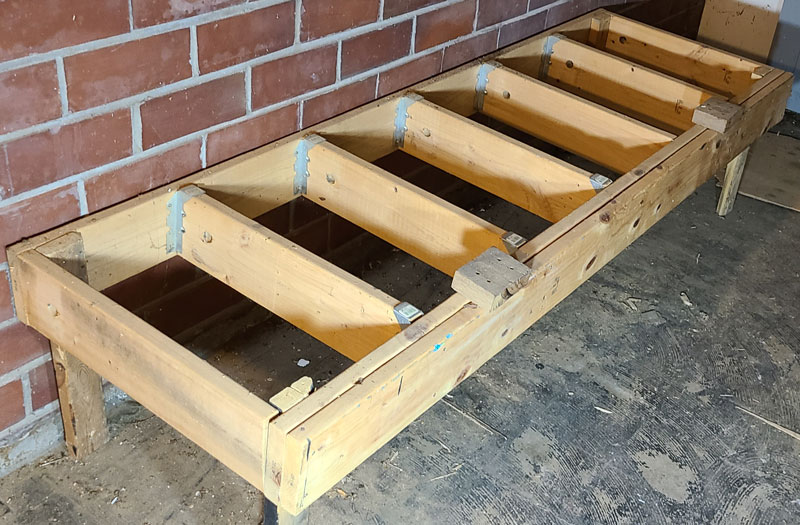 Small 2x4's shown on top are old growth barn boards and is where cylinders were mounted.
Holes towards the back is where steel pipe was used as a pivot.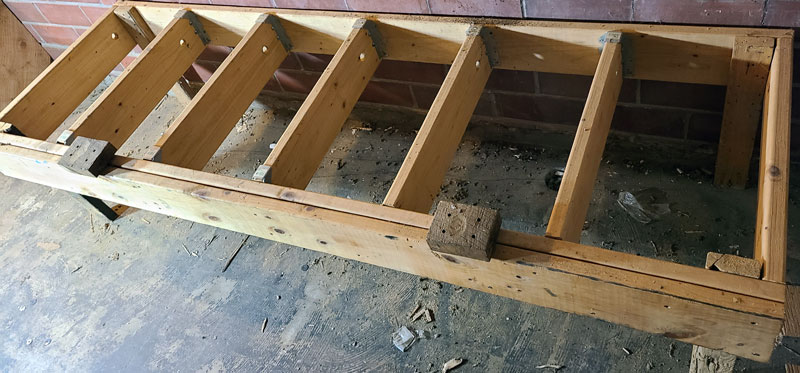 ---
Fridge Scares
Fridge Parts - $10
Used to make a realistic looking fridge that has a shallow depth and hidden section that you can scare from.
Second picture shows it is easy to transport.
Cabinet Scare (V2) - $10
Works the same as a fridge with a cabinet facade instead of a fridge.
---
Golf Ball Floors
Golf Ball Floors (Both) - $60
Each is 8 foot long x 35"
Similar to fear floor tiles.
Individual panels move when stepped on (3 panels per 8 foot section).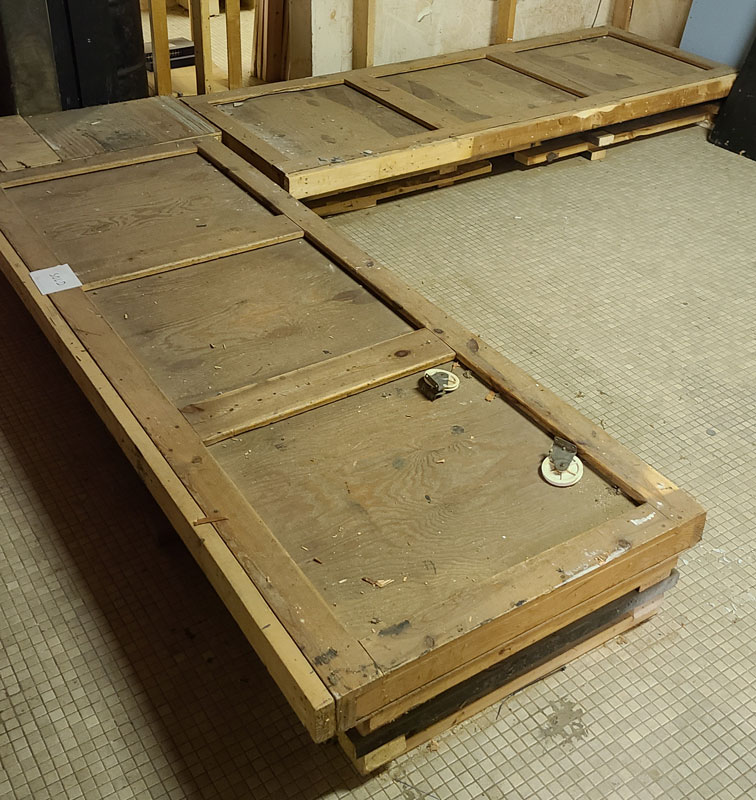 ---
Hangman
Hangman - $60
Legs kick causing him to swing.
Realistic kicking action.
Was in our central stairwell in Gilson where people could see him from 3 sides, above, and below.
Hinged at knees and ankles.
Hangman's noose has internal air hose and safety cable.
Includes internal cylinder.

---
Kid Blocks Drop Panel
Kid Blocks Drop Panel - $20
Previous year it was painted as shipping crates.
Each of the 9 squares was built individually so it will break down for easy transport.
Quick release hinge.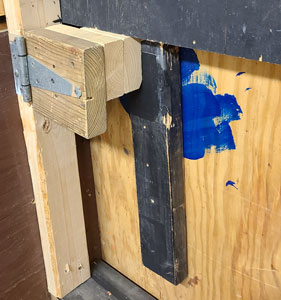 ---
Moonshine Scene
Moonshine Scene - $100
Includes barrels. Top barrel tips.
Door does not open.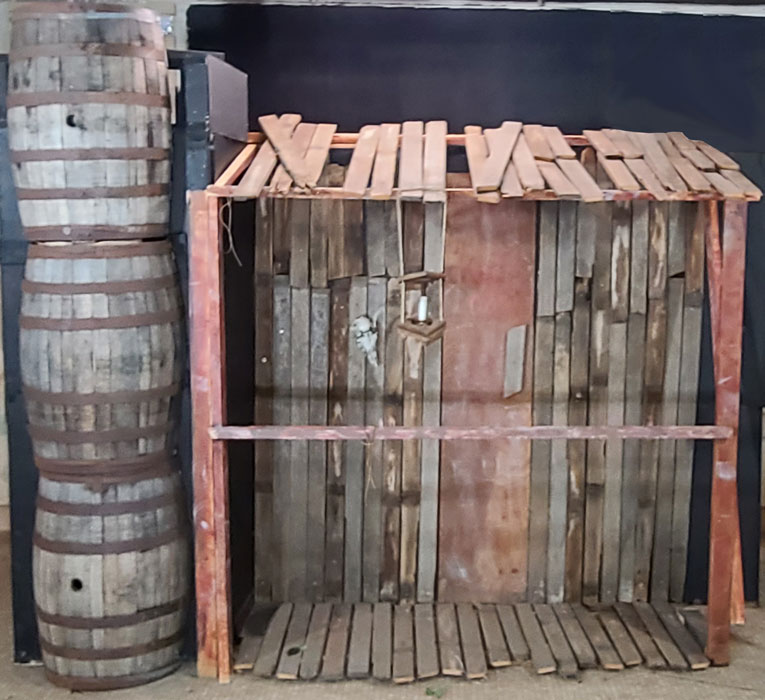 Cylinder on Moonshine Barrel (Included)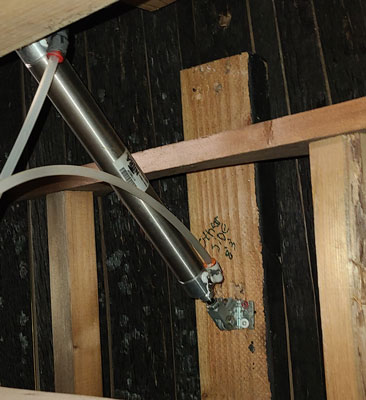 ---
Morgue Table
Morgue Table - $200
Actual cast iron porcelain coated morge table
WWII era. Our building was WWII hospital.
Currently using wooden stand instead of orignial legs.
We broke a bracken on the table that attaches to a leg.
74" long x 30" wide.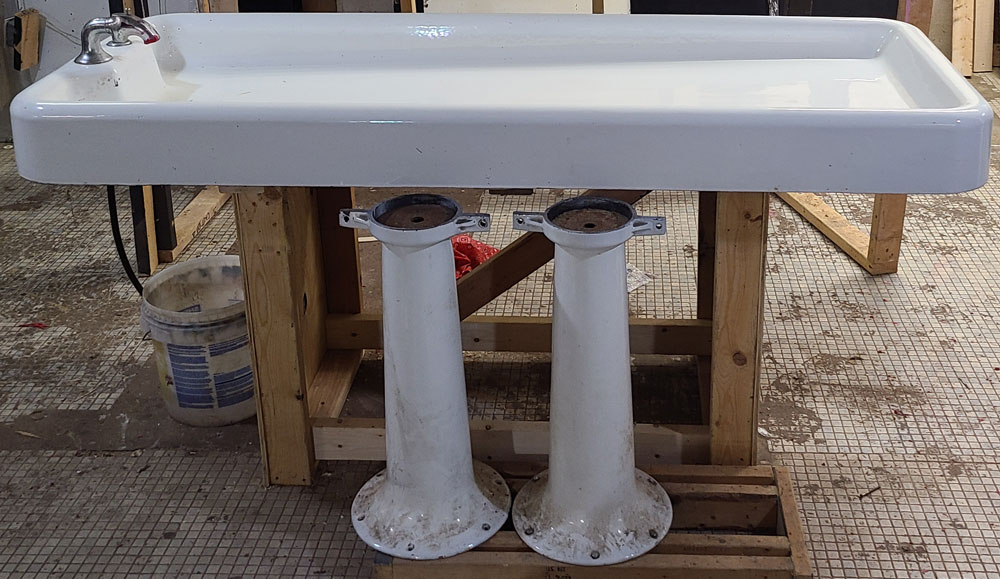 ---
Peppers Ghost Window / Paintball Scare Window
Combine Tractor Glass - $10
Makes a loud noise when shot with paintballs.
55" Tall
Width: 41" to 48"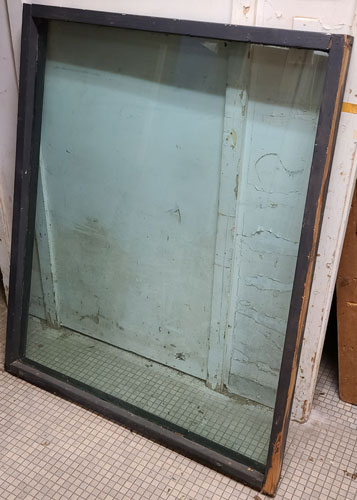 ---
Spike Beds
Spike Bed Spikes (4x8 Panel) - $10
3D Spikes & Mech - $60
Currently has 3D paint. Can easily be painted over for non 3D use.
Includes:
Spike Bed
2ft Cylinder
Solenoid
Pivot & Long Steel Arm
Make Safe Power Switch
Pulley(s)
---
Spinning Floor
Spinning Floor - $300
Spinning floor's diameter is 91.5".
8ft tall with 86.5" interior height.
Walls break down into 6 sections, each 52" wide.
Driven by electric motor and rides on 2 rings of golf balls (bearings).
Includes electric drive motor.
Includes spare drive wheels, replacement golf balls, & spare motor.

Ran around 10 years with first set of golf balls. Only replaced them because we moved buildings.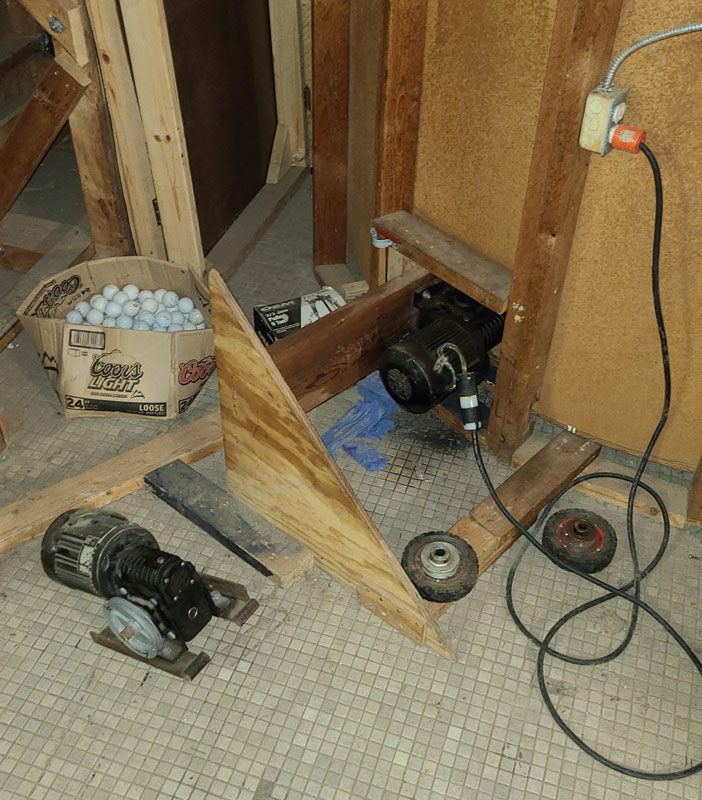 Large Spinning Floor Pieces - $50
Over 8ft diameter and 1.5" thick.
As opposed to one above, this one appears to be a normal floor until it spins. Also, not motor driven. Includes curved pieces to go around spinning floor so circle isn't noticable.
Missing 1 or 2 full sheets (no curves) of 4ft x 8ft x 3/4" plywood.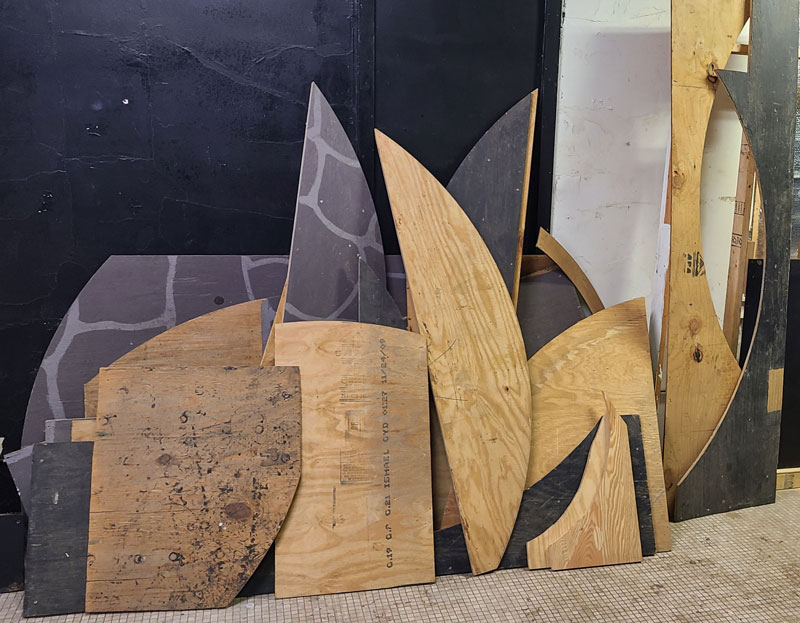 ---
Suspended Floor
Suspended Floor - $200
Suspended by 8 cables. Includes strobe light.
Whole hallway moves when walked on.
8ft long by 34" wide.
Can be broken down for transport. We brought it with us from Gilson.